Endoscopic anatomy and endovideomonitoring of lumbar hernia endoscopic extraxtion
A. Hakobyan, MD PhD
Yerevan 2014
Full text in journal "Theoretical and clinical medical questions"
On the basis of our department were carried out endoscopic spinal surgery. In all cases endovideomonitoring was conducted, the results have been recorded on the hard drives. The aim of this study was to investigate the characteristics and the generalization of the results, which would introduce endoscopic anatomy. Based on a retrospective analysis of endovideomonitoringa of 203 operations conducted by herniated discs, we have identified the particularities of endoscopic microanatomy of Cambi's triangle.
The article presents the possible endoscopic image of the nerve root, disc hernia and surrounding tissue depending on the localization of the herniated disc, its size, the level of nerve root compression. . Variants of the endoscopic picture of protrusion, extrusion and sequestered disc hernia, as well as the stages of extraction of disc hernia are described (Pic. 1,2,3,4).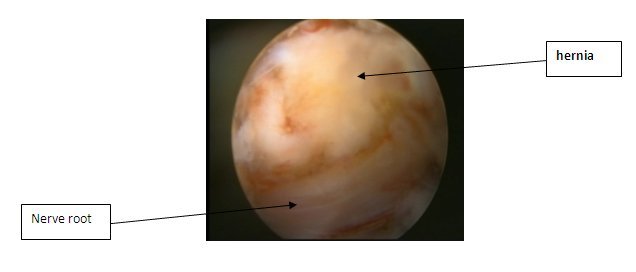 Pic. 1 Nerve root compressed by intervertebral disc hernia is shown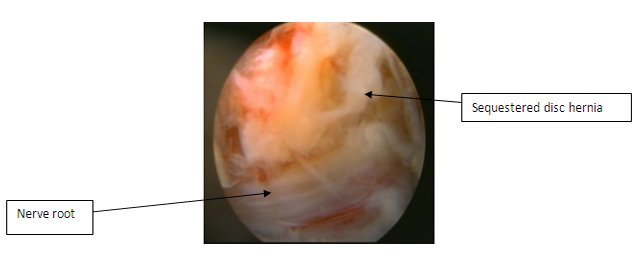 Pic. 2 Endoscopic view of sequestered disc hernia
We believe that the detailed description of the endoscopic microanatomy of Cambin's triangle, presented in this particle, will help young specialists in their work when performing transforaminal endoscopic discectomy.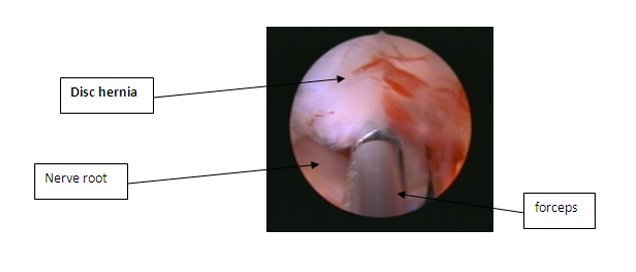 Pic. 3 The stage of hernia extraction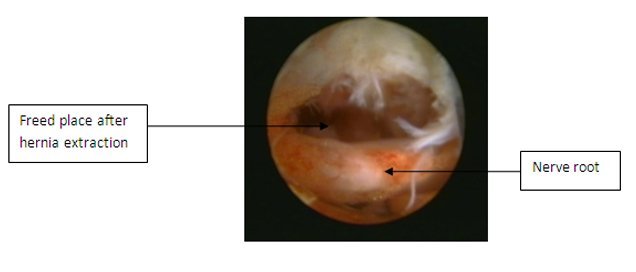 Pic. 4 Endoscopic views after hernia extraction
This work is of great scientific importance because there are rare works in Russian or in Armenian literature, where endoscopic microanatomy of Cambi's Triangle is described. such rare works where detailed and appropriate figure below endoscopic microanatomy Cambi's triangle.