SPINE FIXATIONS
When is it indicated?
Spine fixation is indicated in case of spine fractures, tumors, spondylolisthesis, in pathologies that cause serious impairment of the musculoskeletal function of the spine
Which fixation systems are used?

Our experience allows us to recommend DePuy Spine implants - as very high quality and reliable. A vivid evidence of this is the numerous operations and their long-term results. The advantage of these implants is that they are made of a special titanium (Ti-6AI-4V). They are inert to the body and can last a lifetime. Among the medical centers of RA only in the medical center "Nairi" there is a set of special instruments necessary for inputting these high-quality implants. This kind of surgeries are considered to be unique and they are performed only in ''Nairi'' medical center.
Cervical spine surgeries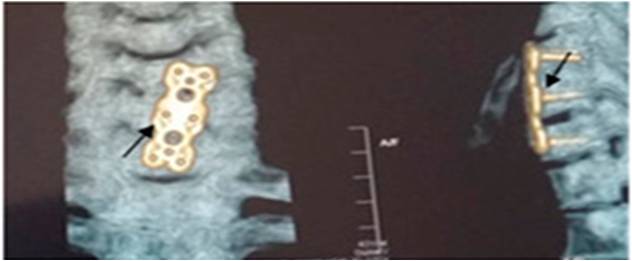 Cervical spine anterior fixation is performed after removal of intervertebral disc hernia by an open method or in case of trauma. During the operation, two vertebras are fixed with a titanium plate, as it is shown in the picture.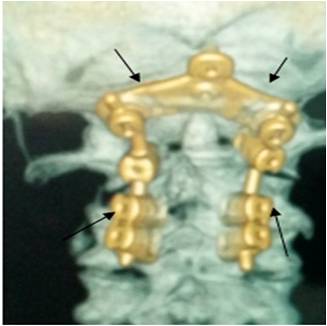 Cervical spine posterior fixation is performed in the case of spine injuries, tumors, compression of the spinal cord or after laminectomy performed in patients with myelopathy. This is the craniocervical fixation, which is one of the types of cervical spine posterior fixation
In lumbar and thoracic spine lesions transpedicular fixation is performed.
The operation is indicated in case of intervertebral discs reherniations, spinal canal stenosis of the spinal tumors.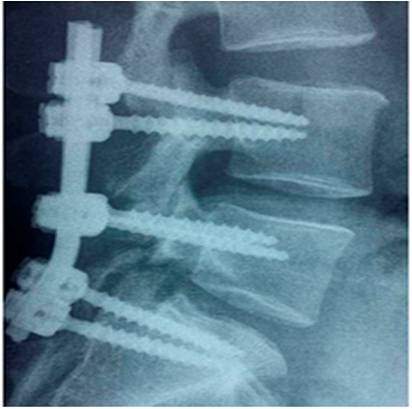 Operations followed by transpedicular fixation are inticated to those patients with reherniations. Also such operations are indicated for spinal injuries or neoplastic lesions. Transpedicular fixation is considered to be a "gold standard" for treatment of spondylolisthesis. This is how the transpedicular fixation of the lumbosacral spine looks. In particular cases, we combine transpedicular fixation with vertebroplasty. The latter is presented in our section "Vertebroplasty."